HINGED GATES FIRE RATED
Classes:
EI2 60, EI2 90 and EI2 120 standard 1634-1: with single leaf or double leaves
REI 120 standard UNI 9723: with single leaf or double leaves
Application
Gates with block frame: for masonry walls, use plugs inside the span and corner steel outside the span (to be specified while ordering), or gates with angular frame: for solid walls with installation with wall anchors or screws and plugs or for frames installed onto sub-frame with plasterboard lining.
Door leaf
Leaf unit made of continuous modules of hollow-core sheet metal panels insulated with appropriate materials, without lower rebate. Nr. 2 extrastrong hinges for each leaf.
Door frame
Made of galvanize "L"-shaped hollow metal profiles for gates with block frame, or with a "Z"-shaped sheet metal profiles for gates with angular frame.
Hinges
Nr. 2 extra-strong hinges.
Sealing
Thermo-expansive, inserted into the leaf rebate.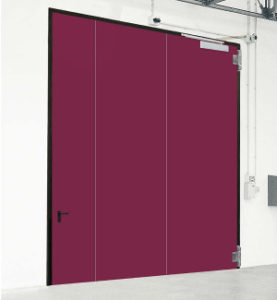 Door handle
Accident-prevention shape, made of stainless steel with a double lever with return spring and set of plates. Handle height = 1050 mm.
Lock
CE marked lock with cylinder to pass. Inactive leaf: "Flush-bolt" lock for automatic upper and lower blocking of the leaf.
Packaging
Leaf unit on disposable metal container.