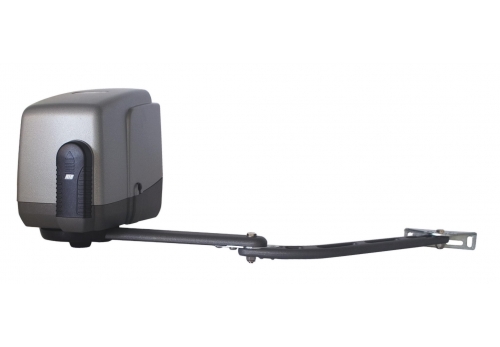 PREMIER
PREMIER is an irreversible electro-mechanical operator and it is designed to open swing gates installed on large pillars, where the distance between hinge and hedge of the pillar is rather considerable. Opening radius of the gate leaf is 105°
ANTI THEFT LOCKING DEVICE – PREMIER is equipped with an anti theft locking device on the drive arm, which prevents the lever from swingingopen if pushed from outside when the gate is closed
ANTI-CRUSHING SAFETY SYSTEM. PREMIER has adjustable impact sensors that allow operations in maximum safety conditions and permits the slowing down during closing and opening to comply with regulation EN12453
OPTIONAL BACK-UP BATTERIES. PREMIER can be equipped with back-up batteries for working even during black-outs. Batteries are in operation only during power failure and they recharge automatically when power is resumed
— USER-FRIENDLY ELECTRONICS. T2 24V is the Control Board especially designed for Premier. It is easy to programme, it has pedestrian opening feature, slowing down during opening and closing, built-in 433 MHz radio receiver, adjustable impact sensor for each single gate leaf and an auto safety test feature that complies with regulation EN12453
EASY RELEASE SYSTEM. In case of a black-out (for PREMIER not equipped with back-up batteries) unlocking the PREMIER is quick and easy. Just use the provided key and turn the lock by 180° degree. You will then be able to pull open the gate manually
MECHANICAL STOPPERS ALREADY EQUIPPED. On the lower part of the PREMIER there are two mechanical stoppers (opening and closing position) already provided. They guarantee an accurate stop at the end of the travel of the gate leaf.