VERTICALLY SLIDING GATES FIRE RATED
Classes:
REI 120 standard UNI 9723
Door leaf
Single unit made of continuous modules of hollow-core sheet metal panels insulated with appropriate materials. Leaf thickness 80 mm.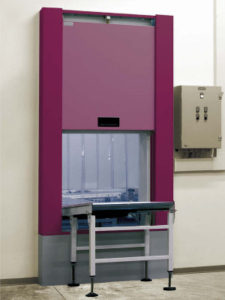 Guide track
Sliding on lateral guide tracks and flame-resistant antifriction anti-skid plates.
Overlapping labyrinths
Made of press-folded sheet metal.
Counterweights
Counterweights with adjustable balancing.
Door handles
Recessed on both sides.
Sealing
Thermo-expanding on all overlapping labyrinths.
Identification plate
Marking with reference information that is applied directly to the handle.
Normal operating mode
The gate remains in the open position, held by a thermal fuse located at the top on the labyrinth distancer. The gate can be closed manually. In case of fire the gate closes as soon as the thermal fuse fails.
Packaging
On disposable metal container.