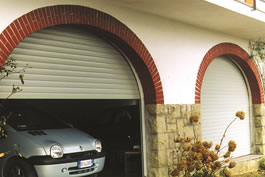 Tap Garage
Tap Garage, Croci new locking system for all types of garages and shops, is the most innovative garage door which assures to your customers the highest protection, quiteness and comfort, respecting the building architecture and gives remarkable elegance.
Croci garage doors respect the existing laws and is able to fulfill many customers' needs. It is available in ceiling, shutter box and support-to-the-wall systems – it can be easily fixed and used in any type of building. Tap Garage is also equipped with intermediate extruded aluminum profiles of the same color, to illuminate and ventilate the rooms.
Garage and shop shutters manufactured by Croci comply with the existing EC norms (EN 292-2/60204-1/418, UNI EN 13241-1/12453/12445/12604- 1/12605, EN 12978, UNI EN 12444/12424), with the following Directives: Machinery Directive 2006/42/CE, Low Tension Directive 73/23/cee and Electromagnetic Compatibility Directive 89/336.
Tap Garage can be installed with the following systems:
– Ceiling (NEW now available also manual version)
– Shutter box
– Support to wall
Thanks to its ability to slide on horizontal guide rails supplied with plugs with rollers, this system takes up less room, which is suitable for low-ceiling houses. Its motorized operation uses a particular compensation spring system and is also supplied with manual lifting.
CEILING SYSTEM
(Motorized or Manual version) Opening sizes (max)
Width 3,5 m
Height 3 m
Surface 9 m2
Opening sizes (min)
Width 2 m
Height 1,7 m *
* in opening width and height.
The system, sliding in horizontal guide rails and provided with special side plugs with rolls, offers a minimal overall dimension and makes the use easier in case of low ceilings. Moreover, thanks to a special assist springs system, the motor operation can be provided with inside and outside (on request) manual emergency release.
The sliding system with nylon plugs provided with rollers reduces noise and friction
The spring counterbalance system allows you to use a manual lifting placed inside or outside (on request)
Anti-drop system (patent n. Bo2006A 000807 27/11/06)

CONNECTION TOTAL OBSTRUCTION
a) motorized ceiling system
b) manual ceiling system
This system is extremely easy to be assembled. Moreover, it is an independent system, which means that it respects the architectural features of the place where it is assembled, giving it a certain elegance.
SHUTTER BOX SYSTEM
(Motorized)
opening size (max)
AR/77
width 4 m
height 2,6 m
surface 10 m2
SAR/177
width 4 m
height 2,6 m
surface 8 m2

This system allows an excellent esthetical solution, a greatest ease in the assembly and it can be adapted to several situations, as it is an independent system.
| | |
| --- | --- |
|    SYSTEM WITH "SUPPORT TO THE WALL" | |
This system may be used to close larger surfaces (till 16 m2) and it assure you the same features of the previous systems.
SUPPORT TO WALL SYSTEM
(Motorized)
Opening sizes (max)
Width 5 m *
Height 5 m
Surface 16 m2


* Beyond 4 m, cUmPUlsory profile sAr/177, 100×35 guide rail and anti-storm plug.



This system allows the closure of a surface of 16 m2.

Along with the large range of accessories, the Croci product for doors and garages allows adaptation to different "dimension fit" solutions- always according to the regulations enforced.

AR/77 ALUMINIUM PROFILE
With expanded foam insulation
18,5X77 mm
Weight per m2 Kg.4,730 approx.
Slats per m2 n. 13
Max. width 4,00 lm
Max. height 5,00 lm
Max. surface 16 m2

SAR/177 ALUMINIUM PROFILE
With high density foam insulation
18,5X77 mm
Weight per m2 Kg. 7,630 approx.
Slats per m2 n. 13
Max. width 5,00 lm
Max. height 6,00 lm
Max. surface 20 m2

ESF/77 INTERMEDIATE PROFILE IN EXTRUDED ALUMINIUM
FOR LIGHTING
Weight per m2 Kg. 10,860 approx.
Slats per m2 n. 13,00
ESA/77 INTERMEDIATE PROFILE IN EXTRUDED ALUMINIUM
FOR VENTILATION
Weight per m2 Kg.9,520 approx.
Slats per m2 n. 13
| | |
| --- | --- |
|    END SLATS And GUIDE RAILS | |
TE19X77 END SLAT IN EXTRUDED ALUMINIUM
with seat for key lock for gasket for end slat weight per lm approx. 0,999 Kg Profiles per m2 n. 13

GE90X35 GUIDE RAIL IN EXTRUDED ALUMINIUM
WITH SEAT FOR PVC GASKETS,
with seat for gasket,
for 19 mm profiles
weight per lm approx. 1,890 Kg
(shutter box and support
to the wall systems till 4 m)

GE85X38 GUIDE RAIL IN EXTRUDED ALUMINIUM
WITH DOUBLE SEAT FOR BRUSH GASKET
with double seat for brush-gasket,
for 19 mm profiles
with Protection cArter
in extrUded AlUminUm
weight per lm approx. 1,938 Kg
(ceiling system)
GE100x35 ANTI-STORM EXTRUDED ALUMINUM GUIDE RAILS
with double seat for gaskets,
weight per lm approx. 2,148 Kg
(only for support to the wall system
comPUlsory beyond 4 m light)
TLAR77
fixing system with side plug for AR/77 profile

TLES77
fixing system with side plug with fixing screw for SAR/77 – ESA/77 – ESF/77 profiles
AT77
fixing system with anti-storm side plug for AR/77 – SAR/177 profiles (only for support to the wall system compulsory beyond 4 m light)
| | |
| --- | --- |
|    SHUTTER DOOR COMBINATIONS | |
SHUTTER WITH END SLAT
AR/77T
AR/77T/SF ceiling system
SAR/177T
SAR/177T/SF ceiling system
SAR/177T/AT with anti-storm system

SHUTTER WITH 3 LIGHTING PROFILES, 2 VENTILATION PROFILES AND END SLAT
AR/77FA
AR/77TFA/SF ceiling system
SAR/77TFA
SAR/177TFA/SF ceiling system
SAR/177TFA/AT with anti-storm system
SHUTTER WITH 3 LIGHTING PROFILES AND END SLAT
AR/77T
AR/77TF/SF ceiling system
SAR/177TF
SAR/177TF/SF ceiling system
SAR/177TF/AT with anti-storm system

SHUTTER WITH 3 VENTILATION PROFILES AND END SLAT
AR/77TA
AR/77TA/SF ceiling system
SAR/77TA
SAR/177TA/SF ceiling system
SAR/177TA/AT with anti-storm system